Kelly Anderson Dance Theatre: Skits and Pieces
Steppenwolf's LookOut Series
November 8th
8pm
1700 Theater
​Steppenwolf
Kelly Anderson Dance Theatre:
Skits & Pieces
is an evening of dance, theater and comedy. Highlighting works from some of her favorite productions, Anderson weaves together an evening of terrible dates, broken hearts and the common strife of an artist "waiting" for their big break.
​
The program includes "To Have and To Hold," a comedic solo of a delusional bride dressed for distress; "Dating Disasters," an excerpt from the evening-length production
Message Me If…
which explores the true perils of the online dating experience; and "Coin-Operating Girl and Her Automated Toy," a duet from
VAUDEVILLE!
in which a woman yearning for the perfect (any) companion dreams up the ultimate boy toy. The evening will end with a long excerpt from KADT's most recent production
Livin' the Dream
. Come witness the cast reveal their true childhood fantasies, share their present struggles and actualize their lifelong dreams.
Photo: Matthew Gregory Hollis


Powered by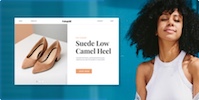 Create your own unique website with customizable templates.