"Anderson, a master of comedic timing and self-deprecation…
Anderson proves that dance doesn't need to be dead serious."
-Lauren Warnecke, Chicago Magazine

​
​Exciting News!​
KADT is performing at Steppenwolf's LookOut Series!
Kelly Anderson Dance Theatre: Skits and Pieces
Wednesday, November 8
Steppenwolf's 1700 Theatre
8pm
​
Join Kelly Anderson Dance Theatre for an evening of dance, theater and comedy. Highlighting works from some of her favorite productions, Anderson weaves together an evening of terrible dates, broken hearts and the common struggle of an artist "waiting" for their big break.
TICKETS
www.steppenwolf.org/tickets--events/lookout/
KADT's latest work is touring Milwaukee!
​​"Livin' the Dream"
October 7th, 7:30pm
October 8th, 2:30pm
Danceworks Studio Theater
1661 N. Water St.
Milwaukee, WI
She always dreamed she'd be a Solid Gold Dancer. Well, it's no longer 1984 and it may be time to hand over those legwarmers…or is it? "Livin' the Dream" is a comedic dance theater work that gives this Solid Gold dreamer and her discouraged cast the opportunity to finally fulfill their childhood wishes of stardom. They may not have nailed that Broadway audition, have been handed an Olympic gold medal, or delivered their Oscar acceptance speech, but "Livin' the Dream" will give them the opportunity to do just that. Come witness the cast of "Livin' the Dream" reveal their true childhood fantasies, share their present struggles and actualize their lifelong dreams.
​
Tickets on sale August 21st:
danceworksmke.org/performances/guest-concerts/
The Prop Thtr in association with Pop Magic Productions presents
In Sarah's Shadow: The Eleanora Duse Story
Written & Directed by Olivia Lilley
Choreographed by Kelly Anderson
October 27th - December 9th, 2017
Fridays & Saturdays @
10:30pm
And Monday November 6th and Monday December 4th
@
8pm
@ The Prop Thtr
3502 N. Elston
Part history rewritten, part Dance Pop Drama, In Sarah's Shadow: The Eleanora Duse Story follows the late 19th century phenomenon Eleanora Duse on her quest to be the greatest actor who ever lived. Battling the intensifying pressures of celebrity, rivalry, and romance, Eleanora fights for her unique approach to life and art. Though in her time Duse was widely regarded, history has all but erased her. The more bombastic, Sarah Bernhardt is held up as the goddess of the theatre.
In this unique collaboration, writer/director Olivia Lilley and choreographer Kelly Anderson take back Eleanora's legacy for a 21st century audience, restoring her reputation as one of the first modern artists.
Stay tuned! Tickets on sale soon!
Powered by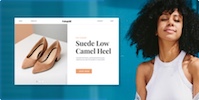 Create your own unique website with customizable templates.