KELLY ANDERSON DANCE THEATRE is a Chicago-based dance company inspired by variety, theater and comedy. KADT's most recent works include: THE END IS HERE and that's ok. for Links Hall 40th Anniversary Season, Skits and Pieces, presented in Steppenwolf's LookOut Series, "In Sarah's Shadow: The Eleonora Duse Story," a co-creation with Writer/Director Olivia Lilley, "Livin' the Dream," VAUDEVILLE! and the Chicago company debut, Message Me If... in 2014. Prior to her arrival from NYC in 2012, Kelly created the evening-length collaborative production This is how we disappear and The Little Things with Portland-based performance company bobbevy. Kelly has created two solo shows with the Danceworks Performance Company (Milwaukee, WI), Vaudeville and The Bra Project. Her most notable independently produced works include a dance/theater/opera collaboration, 26, with Milwaukee Opera Theater, choreography for Gal Friday Film's Missed Connections, Red Knife Lottery's music video "Junkie Jazz", the creation of The Mondo Lucha Dancers for the Mondo Lucha Variety Show, two collaborative evening- lengths, Vacant and Bad Meat, choreography for A Wrinkle in Time with actor/director Mark Metcalf and The First Stage production of Peter Pan. Kelly has also co-produced five Variety Show's in Milwaukee (2002-2007), two in Portland, OR (2007 & 2008) and has continued to produce them independently since 2010. Her work has been performed in The Minnesota Fringe Festival and her commissioned work, Shower, was presented at The Puffin Room in NYC. Since the company's arrival to Chicago, performance credits include D49 Festival (2014), Harvest Chicago Contemporary Dance Festival (2014), THAW (2013-2018), It's Happening! (2017 & 2016) and Mediums (2016) at Links Hall.


Photo: Matthew Gregory Hollis
Powered by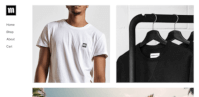 Create your own unique website with customizable templates.